Find your language school
Greek courses in Santorini
Santorini, a volcanic Greek island, is located in the Aegean Sea. The current shape of the island is the result of a tectonic activity that took place around 1600 BC. Then the huge volcanic eruption caused a partial collapse of the island and the creation of a so-called caldera of a diameter of about 10 km. (a huge crescent-shaped cliff). This event is connected by some with the sinking of the legendary Atlantis. It was then that the island had a developed civilization (Minoan culture), which left it just before the volcanic eruption. After this disaster, the island was uninhabited for almost 500 years.
Greek language schools in Santorini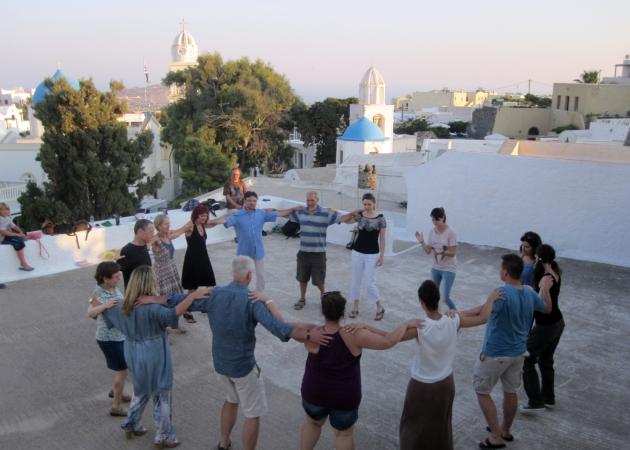 Santorini
The Hellenic Culture Centre is specialized in Greek language courses for non-native speakers, cultural tourism programmes and teacher training, since…
Intensive Group Greek Language Courses
Accreditations:
5% discount by booking on langart.net
Santorini
Region: South Aegean, Cyclades
Population: 14 500
Time Zone: UTC +2
Official Currency: EUR
The name Santorini comes from the thirteenth century from the name of Saint Irene. Earlier, the island was called Strongyle (round), Kalliste (the most beautiful) and Thira. Currently, Santorini is one of the most famous islands in the Cyclades. Picturesque panoramas, colorful beaches and characteristic white buildings with blue roofs contrasting with black beaches covered with the volcanic dust, attract crowds of tourists from all over the world every year. The villages most visited by tourists are: Fira (the capital and largest port of the island), Ia, Pyrgos, Kamari, Perissa, Akrotiri, Emporio, Monolithos. Santorini is called a windy island, which also makes it a paradise for lovers of water sports such as windsurfing and sailing.