American English College
111 N. Atlantic Blvd., Suite #112, Monterey Park, CA 91754
American English College is an ACCET accredited + SEVIS certified ESL program specializing in languages and test preparation. We offer group classes and private tutoring in our two campus locations in Los Angeles.
American English College specializes in smart English language programs for (F1) international and domestic students. We pride ourselves in our excellent program and experienced teachers who truly care about our students.
Accreditations:


You'll get a 5% discount on tuition by booking your course at langart.net
Special offers
For Transfer (F1) Students in the USA: Take advantage of 50% off the Application Fee ($160 -> $80)
For New Students: Take $200 off when enrolling in 1 quarter or more!
For All Students: Refer a friend, and both you and your friend can receive $100 off (when enrolling in 1 quarter or more)
General Information
Minimum age of students: 15
Lesson duration: 75 min
Maximum class size: 15
Average number of students in group: 8
Number of classrooms: 9
School's foundation year: 1983
Level placement test on the first day: yes
The nearest airport: LAX
Distance from the nearest airport: 45 km
School opening times: 9AM - 6PM
Distance from the airport: LAX Los Angeles International Airport 41 km
Facilities
Drink vending machine
Snack vending machine
Balcony / terrace
Free car parking
Library
Free WIFI
Printer for student use
Dining room
Tea / Coffee room
Photocopier for student use
Kitchen for student use
Computer lab
Self study room
Facilities for disabled people
Disabled Parking
Reception adapted for the disabled
Classrooms adapted for the disabled
Disabled toilet
Classroom equipment
Interactive whiteboard in all classrooms
Air conditioning in all classrooms
Heating in all classrooms
Audio-TV in all classrooms
The price includes
Free certificate of course attendance
WIFI Internet at school
Language level placement test on the first day at school
Language test before the course
Organized activities at school
Course materials:
To be purchased at the school for an extra charge of 135 US$
Top student nationalities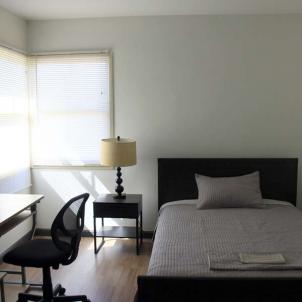 Host Family Homestay
A unique opportunity for students to immerse themselves in the culture, and practice English outside of class through living with an American host family. All host families and rooms undergo a thorough inspection prior to approval, guaranteeing our students are comfortable and safe. We carefully match each student with a suitable family to provided a home away from home during their time at AEC.
Price per week based on 4 weeks
Free cancellation up to 30 days before arrival
Choose a course
| | |
| --- | --- |
| Price includes: | access to kitchen, heating, bedding |
| Accommodation from - to | Prices based on accommodation from Sunday prior to the course to Saturday after the course |
| Minimum age | 16 |
| Accommodation Placement Fee charged by the school | 200 US$ |
Supplements
| | |
| --- | --- |
| Security Deposit (Refundable upon move-out) | 200 US$ one-off |
more
less
Course configurator
Course configurator
Select the start date, length and type of the course and calculate its price. Courses start on Mondays
Accommodation
0 US$
Accommodation Placement Fee

0 US$
By booking on langart.net you save:
0 US$
Payment due now

00 US$
To reserve a place on the course, you must make a small partial payment, which will be deducted from your final invoice
Balance to pay

00 US$
This payment should be made no later than 14 days before the course starts, and after receiving the invoice from the school
By booking a course on langart.net:
You save 00 US$
You book the course at the lowest price
You secure a place on the course after making a small partial payment