inlingua Malta
92, inlingua, Tigne Towers, Tigne Street Sliema Malta
inlingua Malta provides a personal service at a high standard where quality is key! inlingua Malta has been established in Malta since 1980 and forms part of the wider inlingua international community which means that learning can continue in any part of the world. We're located in Malta's prime tourist spot Sliema, where not only can you enjoy this buzzing town but also connect to all parts of our wonderful island in the sun! We look forward to welcoming YOU at inlingua Malta.
Accreditations:

You'll get a 5% discount on tuition by booking your course at langart.net
General Information
COVID-19 school operational status: Currently delivering classes face-to-face for students who have a vaccination certificate
Minimum age of students: 5
Lesson duration: 45 min
Maximum class size: 12
Average number of students in group: 8
Number of classrooms: 18
School's foundation year: 1980
Level placement test on the first day: yes
The nearest airport: Malta International Airport
Distance from the nearest airport: 6 km
School opening times: 8:00 - 17:30
School closed on national and regional holidays: 21.09.2021, 08.12.2021, 13.12.2021, 25.12.2021, 10.02.2022, 19.03.2022, 31.03.2022, 01.05.2022, 07.06.2022, 29.06.2022, 15.08.2022, 08.09.2022, 21.09.2022, 08.12.2022, 13.12.2022, 25.12.2022
Distance from the airport: MLA-Malta International Airport 20 km
Facilities
Drink vending machine
Snack vending machine
Library
Free WIFI
Printer for student use
Tea / Coffee room
Photocopier for student use
Computer lab
Self study room
Lounge with TV
Facilities for disabled people
Reception adapted for the disabled
Classrooms adapted for the disabled
Disabled toilet
Classroom equipment
Interactive whiteboard in all classrooms
Air conditioning in all classrooms
Heating in all classrooms
Audio-TV in all classrooms
The price includes
Free certificate of course attendance
WIFI Internet at school
Language test before the course
Organized activities at school
Course materials:
To be purchased at the school for an extra charge of 27 €
Top student nationalities
Leisure activities
| Activities | Included / at extra cost | Distance from school |
| --- | --- | --- |
| Cooking | | |
| Horse riding | | |
| Basketball | | |
| Music | | |
| Diving | | |
| Football | | |
| Swimming | | |
| Dancing | | |
| Windsurfing | | |
| Sailing | | |
Host Family Host Family
inlingua Host Families are chosen for the welcoming atmosphere in their home. If you choose this type of accommodation you will learn Maltese customs and traditions, whilst rapidly improving your English through constant communication with your host family.
Free cancellation up to 30 days before arrival
Choose a course
| | |
| --- | --- |
| Price includes: | access to free WIFI in the building, access to kitchen, weekly cleaning, access to the laundry room, bedding, private bathroom, towels, TV, shared bathroom |
| Accommodation from - to | Prices based on accommodation from Saturday prior to the course to Saturday after the course |
| Minimum age | 14 |
| Maximum age | 35 |
| Minimum stay in weeks | 1 |
| Distance from school walking | 15 min |
| Distance from school by public transport | 5 min |
| Extra nights bookable: | Yes |
| Price per extra night | 35 € |
| Accommodation Placement Fee charged by the school | 0 € |
| High season supplement per week | 10 € |
| High season dates | 04.06.2022 - 04.09.2022 |
Supplements
| | |
| --- | --- |
| Dietry Request | 84 € per week |
more
less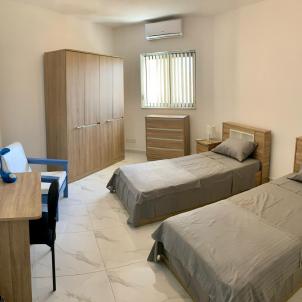 Apartment Sliema Self-Catering Shared Apartment
Located in Sliema a few minutes away from the school, the Sliema shared apartment option is perfect for the adult studying staying 4 weeks or longer and boasts all that is required to have a comfortable stay. Students will enjoy communal living in the form of triple rooms, shared living rooms, and fully-equipped shared kitchen and bathrooms. All apartments include laundry facilities and Free WIFI
Price per week based on 8 weeks
Free cancellation up to 30 days before arrival
Choose a course
| | |
| --- | --- |
| Price includes: | access to free WIFI in the building, access to kitchen, weekly cleaning, access to the laundry room, bedding, towels, TV, shared bathroom |
| Accommodation from - to | Prices based on accommodation from Saturday prior to the course to Saturday after the course |
| Minimum age | 18 |
| Maximum age | 50 |
| Minimum stay in weeks | 1 |
| Distance from school walking | 10 min |
| Distance from school by public transport | 3 min |
| Extra nights bookable: | Yes |
| Price per extra night | 14 € |
| High season supplement per week | 35 € |
| High season dates | 04.06.2022 - 04.09.2022 |
more
less
Terms & Conditions
1. Payment is to be completed before the start of the course
2. FREE cancellation up to 30 days before the start of the course
3. Full refunds given up to 30 days before the start of the course (please check COVID-19 Terms and Conditions)
4. Full refund in case of refusal
Course configurator
Course configurator
Select the start date, length and type of the course and calculate its price. Courses start on Mondays
Accommodation
0 €
Accommodation Placement Fee

0 €
By booking on langart.net you save:
0 €
Payment due now

00 €
To reserve a place on the course, you must make a small partial payment, which will be deducted from your final invoice
Balance to pay

00 €
This payment should be made no later than 14 days before the course starts, and after receiving the invoice from the school
By booking a course on langart.net:
You save 00 €
You book the course at the lowest price
You secure a place on the course after making a small partial payment