COMITATO LINGUISTICO
Largo Cacciatori delle Alpi, 5 - 06121 Perugia, Italy
COMITATO LINGUISTICO, founded in 1986, the school is situated in the old city center of Perugia and offers courses exclusively for Italian as a foreign language all year round. Our objective is to teach in a friendly environment with a professional approach. It is very important for us to have personal contact with the students; the teachers and administration are always available regarding information and advice needed.
Accreditations:

You'll get a 5% discount on tuition by booking your course at langart.net
General Information
School's foundation year: 1986
School closed on national and regional holidays: 08.12.2023, 25.12.2023, 26.12.2023, 01.01.2024, 01.04.2024, 25.04.2024, 01.05.2024, 15.08.2024, 01.11.2024, 25.12.2024, 26.12.2024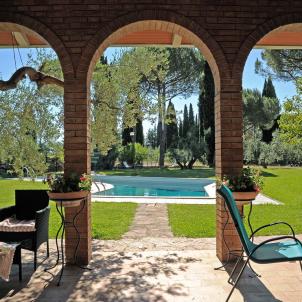 Free cancellation up to 15 days before arrival
Choose a course
| | |
| --- | --- |
| Price includes: | access to free WIFI in the building, access to kitchen, access to the laundry room, heating, bedding, towels, TV, shared bathroom |
| Accommodation from - to | Prices based on accommodation from Sunday prior to the course to Saturday after the course |
| Minimum age | 12 |
| Maximum age | 100 |
| Minimum stay in weeks | 1 |
| Distance from school walking | 15 min |
| Distance from school by public transport | 10 min |
| Extra nights bookable: | Yes |
| Price per extra night | 40 € |
more
less
Terms & Conditions
GENERAL TERMS AND CONDITIONS APPLICABLE TO THE BOOKING.
Description of the booking process, deposit payment, balance payment
1. Making a booking.
1.1 The booking will be made via langart.net through an online booking system.
2. Deposit payment
2.1 A deposit, in the amount specified in the booking process, to secure a place on the course, will be charged to the student at the time of booking.
3. Balance payment
3.1 The balance will be paid by the student to the school directly.
3.2 For the payment of the balance, the school will issue an invoice to the student, with the deposit deducted, and forward it to the student along with confirmation of enrolment and other documents relating to the booking. The invoice will include the methods of payment accepted by the school, as well as the deadline for payment.
For latest booking terms, to include changing the booking, cancellations, withdrawal from the course, and others, visit:
General conditions - Comitato Linguistico Perugia
Course configurator
Course configurator
Select the start date, length and type of the course and calculate its price. Courses start on Mondays
Accommodation
0 €
Accommodation Placement Fee

0 €
By booking on langart.net you save:
0 €
Payment due now

00 €
To reserve a place on the course, you must make a small partial payment, which will be deducted from your final invoice
Balance to pay

00 €
This payment should be made no later than 14 days before the course starts, and after receiving the invoice from the school
By booking a course on langart.net:
You save 00 €
You book the course at the lowest price
You secure a place on the course after making a small partial payment