COMITATO LINGUISTICO
Largo Cacciatori delle Alpi, 5 - 06121 Perugia, Italy
COMITATO LINGUISTICO, founded in 1986, the school is situated in the old city center of Perugia and offers courses exclusively for Italian as a foreign language all year round. Our objective is to teach in a friendly environment with a professional approach. It is very important for us to have personal contact with the students; the teachers and administration are always available regarding information and advice needed.
Accreditations:

You'll get a 5% discount on tuition by booking your course at langart.net
General Information
COVID-19 school operational status: fully operational
School's foundation year: 1986
School closed on national and regional holidays: 01.01.2022, 06.01.2022, 17.04.2022, 18.04.2022, 25.04.2022, 01.05.2022, 02.06.2022, 15.08.2022, 01.11.2022, 08.12.2022, 25.12.2022, 26.12.2022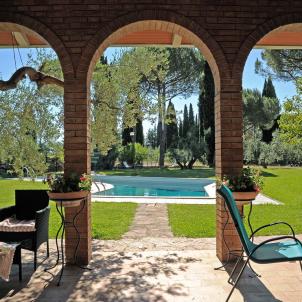 Free cancellation up to 15 days before arrival
Choose a course
| | |
| --- | --- |
| Price includes: | access to free WIFI in the building, access to kitchen, access to the laundry room, heating, bedding, towels, TV, shared bathroom |
| Accommodation from - to | Prices based on accommodation from Sunday prior to the course to Sunday after the course |
| Minimum age | 12 |
| Maximum age | 100 |
| Minimum stay in weeks | 1 |
| Distance from school walking | 15 min |
| Distance from school by public transport | 10 min |
| Extra nights bookable: | Yes |
| Price per extra night | 40 € |
more
less
Terms & Conditions
To enrol you need to fill in the enrolment form and send it, together with the receipt of payment of the 55 euro enrolment fee, by fax, email or by post at least 3 weeks before the beginning of your course.
Payment of the enrolment fee can be made by:
– Bank draft to our current account:
UniCredit Banca Agenzia PERUGIA FONTIVEGGE, via M.Angeloni, 76
account number: 000401098213 name: COMITATO LINGUISTICO CODICE BIC SWIFT: UNCRITM1J03
IBAN: IT 55 E 0200803033000401098213 Any banking commissions are to be paid by the student.
– PAYPAL
In the case of cancellation the enrolment fee will not be reimbursed. The fee for the chosen course must be paid on the first day of the course at the administrative office of the COMITATO LINGUISTICO and will not be reimbursed; nor can it be reimbursed partially for those students who enrol in a group course which has already begun or those students who leave the course before the official end of the course.}
INSURANCE:
Our students are covered for Civil Liability during the carrying out of institutional activiities organised by the school, both inside and outside the school.
Participants are not insured in the case of illness, accidents, theft or loss of personal belongings.
EU citizens our covered for medical expenses if they have an E111 form which they can obtain from their health authorities before leaving. Non EU students should check with their health authorities if they are covered for medical expenses during a stay abroad. If this is not the case they must purchase a valid health insurance for their stay in Italy.
VISAS:
A study visa is required for non EU students. Students should contact the nearest Italian Consulate or Embassy.
The school helps its students with study visa applications by delivering a certificate stating that the student is enrolled in a course in Italian Language and Culture. For students requiring an enrolment certificate, apart from the enrolment fee, they must pay the entire course fee and the lodging fee (if required).
Should the student not obtain their visa, they must communicate this to the school by sending the visa refusal document. In this way the school can reimburse the fee paid (less the enrolment fee).
Students who have obtained a study visa to attend one of the courses cannot cancel the enrolment or change courses.
American citizens do not require a visa to enter Italy.
PERSONAL DATA:
Students authorise the school to include their personal data in a mailing list used to send messages concerning school activities.
Course configurator
Course configurator
Select the start date, length and type of the course and calculate its price. Courses start on Mondays
Accommodation
0 €
Accommodation Placement Fee

0 €
By booking on langart.net you save:
0 €
Payment due now

00 €
To reserve a place on the course, you must make a small partial payment, which will be deducted from your final invoice
Balance to pay

00 €
This payment should be made no later than 14 days before the course starts, and after receiving the invoice from the school
By booking a course on langart.net:
You save 00 €
You book the course at the lowest price
You secure a place on the course after making a small partial payment